The Bookshop
When you go from Piazza Navona to Campo dei Fiori, or vice versa, you decide to cross the splendid eighteenth-century courtyard of Palazzo Braschi, you will find the Library dedicated to the Museum of Rome.
Inside,  there are all the guides of the Museums of the Municipality in addition to a full-bodied volume in Italian on the museum itself and a more streamlined guide published in both Italian and English.
The Library offers a wide range of tourist, thematic and culinary guides for casual visitors and citizens who want to get to know the city better. There are also printings on the art of the eighteenth and nineteenth centuries, as well as the catalogues of the main exhibitions these days taking place in the city of Rome and in Italy. Even the kids can find educational books on art and the city.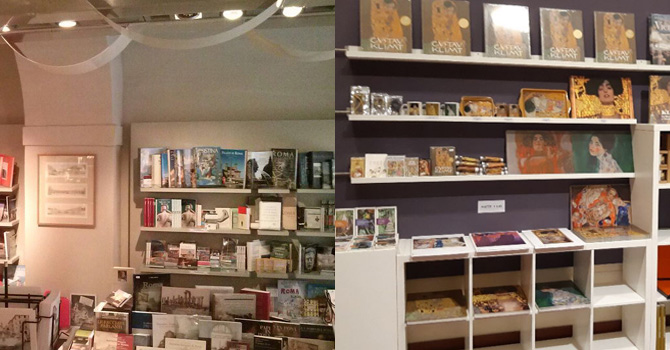 On the occasion of the temporary exhibitions inside the Museum, the Library is also enriched with publications relating to the theme of the individual exhibitions. Visitors thus have around 750 titles available.
The attention paid to the choice of editorial equipment is also found in the products on sale.
Among these, the reproductions of jewels made by artisan goldsmiths and inspired by jewels standing out in famous paintings.
Master glassmakers have created plates and tiles taking up the eighteenth-century decorations of Palazzo Braschi and for lovers of contemporary design there are bags, clutch bags and bijoux designed by young creatives.
Orario:
> Timetable
10% discount for MIC card and Lazio Youth Card holders
During important exhibition performances, such as for example Klimt, Canova and Artemisia Gentileschi, a special sales point operates from 10.00 to 19.45, open only with the exhibition ticket