Artemisia Gentileschi and Her times
Immagine: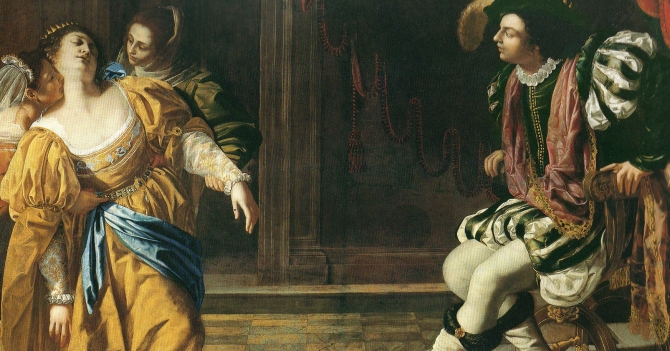 30/11/2016 - 07/05/2017
Museo di Roma,
I Floor- Exhibition Space
Rome city will host a great exhibition dedicated to the one of the most passionate and beloved artists of her period: Artemisia Gentileschi.
Look the exhibition teaser
The result of a considerable research and preparation, the exhibition covers the entire span of Artemisia's Gentileschi career, allowing visitors to learn about the artist's life and work parallel to those of her colleagues.
The almost 100 works of art on show create a lively debate between Gentileschi and her fellow artists whose circles she frequented in Rome, then Florence, then Rome again and finally Naples, with the Venetian interlude as much in need of investigation as the brief but intense London period.
In addition to Artemisia's magnificent masterpieces such as Judith Beheading Holofernes from the Museo di Capodimonte, Esther and Assuero from the Metropolitan Museum of New York, Self-Portait as a Lute Player from the Wadsworth Atheneum, Hartford Connecticut, visitors will have an opportunity to see Cristofano Allori's Judith from the Galleria Palatina, Palazzo Pitti in Florence, and Simon Vouet's Lucretia from Nàrodnì Galerie, Prague.
NOTICE
The following masterpieces will be on show at different times compared to the normal exhibition period
 - ARTEMISIA GENTILESCHI, GIUDITTA CHE TAGLIA LA TESTA DI OLOFERNE, MUSEO DI CAPODIMONTE, NAPOLI, ITALIA: on show from February, 18
 - GIUSEPPE VERMIGLIO, GIAELE E SISARA, VENERANDA PINACOTECA AMBROSIANA, MILANO, ITALIA: on show until March, 5
- ARTEMISIA GENTILESCHI, SUSANNA E I VECCHIONI, POMMERSFELDEN, KUNSTSAMMLUNGEN, GRAF VON SCHONBORN: on show until March, 27
Information
, I Floor- Exhibition Space
Opening hours
Tuesday-Sunday: 10.00 - 19.00;
24 and 31 December: 10.00 - 14.00;
Last admission 1 hour before closing time.
Please Note: please check our Notice page for special openings and/or temporary closures
Closed Monday; 25 December; 1 May.
Entrance ticket
"Only exhibition" Ticket
€ 11,00 full-price ticket
€ 9,00 reduced-price ticket;
€ 4,00 school special ticket per student (free ticket to each teacher or person accompanying, every 10 students);
€ 22,00 Family special ticket (2 adults plus children under 18).
"Combined" ticket Museo di Roma +Exhibition
€ 16,00 full-price ticket for resident in Rome;
€ 12,00 reduced-price ticket for resident in Rome;
€ 17,00 full-price ticket for non-resident in Rome;
€ 13,00 reduced-price ticket for non-resident in Rome.
Free entrance: to children under 6 years; to visitors with disabilities and to the person accompanying  them; to  EU tourist guides;  EU tourist interpreters when their assistance is required alongside the guide, on production of a valid permit issued by the relevant authority;  members of ICOM (International Council of Museums), ICOMOS (International Council on Monument and Sites), foreign and Italian cultural institutes such as the Lincei Academy, the Institute of Roman Studies, the Friends of the Museums of Rome, ICCROM, Roma Pass 72 hours as first or second entrance; Roma Pass 48 hours as first entrance.
Concessions: to EU citizens aged between 6 and 25 years; to journalists upon presentation of suitable proof of professional activity; teachers; Mastercard holders, Metrebus holders,  Feltrinelli Cartà Più e Multi Più, FAI, TCI Touring Club, Bibliocard, ACI Arc Europe, UPTER, ARCI, Roma Pass 72 hours  holders, from the third entrance; Roma Pass 48 hours holders, from the second entrance.
Ticket 2x1 dedicated to AV ticket holders with destination Rome (issued max 3 days before the visit to the exhibition). 2x1 also for regional AV subscribers.
Reduced ticket (9 euros) to "Generali" employees  and agents showing business badge and to the "Generali" clients showing their DEM
Information
060608 everyday h. 9.00-19.00
Type
Exhibition|Modern Art
Organization
Promoted and produced byRoma Capitale, Assessorato alla Crescita culturale - Sovrintendenza Capitolina ai Beni Culturali e Arthemisia Group Organized byZètema Progetto Cultura From an idea byNicola Spinosa
Sponsored by
MasterCard Priceless Rome
Media partner
Il Messaggero
Curator
Francesca Baldassari per la sezione fiorentina, Judith Mann per la sezione romana, Nicola Spinosa per la sezione napoletana
Catalogo
Eventi correlati
Currently there are no ongoing activities.
There are no planned activities.